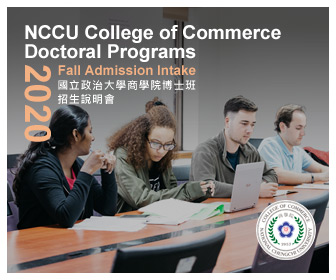 We are excited to announce that College of Commerce at National Chengchi University (NCCUC) will be holding admission info session for students who are interested to pursue a doctoral degree related in business studies.  
As a first tier business school in Taiwan, NCCUC aims to educate students in the field of academic research and business administration, stressing theoretical knowledge as well as hands-on practical experience. We are dedicated to building a learning environment that converges various disciplines and brings forth the wisdom and philosophy of both east and west cultures. Multidimensional training has been the fulcrum over the years in teaching and research, providing support to students from various backgrounds to become future leaders.  
Our 2020 Admission Brochure is now 
on-line
, the 2020 intake starts
 from 3rd January to 20th March 2020
(17:00 GMT+8)
. To gain first-hand insights such as admission process, classes, peers, overseas exchange opportunities, and more, sign up for the info session through linkage provided and reserve a seat for yourself!  
Below please find registration linkage for the 2020 NCCUC Phd Admission Info Session. Date, venue and time provided as below: 
Date: 14th Dec 2019
Time: 12:10 - 13: 20
Venue: Room 260210, 2F, Commerce Building, National Chengchi University
Linkage:  
https://forms.gle/7TeKrdJwnb5x88f36
For more information, please go to NCCUC's PhD website:
https://www.phd.commerce.nccu.edu.tw/admission/application-procedures/